As we can say here at The Old Movie Maven is WOW!
Anyone for some Chinese dance clips?!
Pat Suzuki Doing "How High the Moon":
Pat Suzuki on "What's My Line":
This clip has Sammee Tong doing Bing Crosby:
Maven can't do the folowing clip justice. Suffice it to say it has a barely dressed dancer . . . unless you count the "Goldfinger" effect . . . and a mummy . . . and a . . . . Aw, check. Click and watch:
<<<<<>>>>><<<<<>>>>><<<<<>>>>><<<<<<>>>>>>
Bill Robinson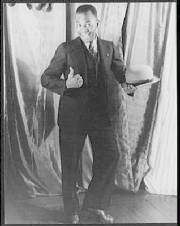 "Bojangles" Himself
Maven came across a clip from Honolulu (1939) that has Eleanor Powell dancing a number in honor of Bill "Bojangles" Robinson. She did it in "black face" which was accepted practice then, however deplorable it seems now.
The comments posted indicate a number of things:
Powell and Robinson knew each other well and much of the texts posted with this clip give lots more information. . . . If anyone wonders, the music is called "The Darktown Strutter's Ball."
Then you're in for a treat: A nightclub outing that could have been in a scene of a Charlie Chan movie . . . at least during the Monogram era.
Eleanor Powell was known as "The Queen of Tap." She starred with such talent as Fred Astaire and Jimmy Stewart. But even Powell went to the dogs . . . or at least one very lucky dog!
How about Eleanor Powell doing a hula/tap dance?! From Honolulu (1939) with Robert Young:
Not to mention the boogie woogie!!
For those of us who remember -
and still have the child within us
- here is Cyril Ritchard as Captain Hook
. . . doing a tango to kill for!
George Raft's character had been warned not to do this dance at the end of the movie because his heart wouldn't handle the stress.
Heck, how could any man's heart survive dancing with the incomparable Lombard?!
Bolero stars George Raft as Raoul de Barre, an arrogant dancer who rises to fame in the years prior to, during, and after WW I. Raoul is helped along the way by his promoter brother Mike (William Frawley) and scores of willing females, matriculating from two-bit gigolo to the greatest ballroom dancer in Paris. Determining that nothing will stand in his way to the top, he regularly fires any female dancing partner who has the misfortune to fall in love with him -- until the last of his partners, the beautiful Helen (Carole Lombard) beats him to the punch by walking out on him. His heart weakened during the war, Raoul aspires to open his own nightclub, despite warnings that if he ever dances again the consequences will be fatal. On opening night of his new establishment, Raoul dances Maurice Ravel's "Bolero" with Helen, now the wife of a British nobleman. Having reached his emotional and professional pinnacle, Raoul collapses and dies in his dressing room -- as the nightclub patrons, oblivious to his fate, loudly demand an encore. Surprisingly, George Raft and Carole Lombard's dancing is doubled by others, but the same cannot be said of the inimitable Sally Rand, whose famous fan dance is tastefully re-created here. Raft and Lombard later reteamed in 1935's Rumba. ~ Hal Erickson, All Movie Guide
<><><><><><><><>
An extra gem is a clip of Torvill & Dean in their last performance in the 1984 Olympics, using Ravel's Bolero: http://www.youtube.com/watch?v=t2zbbN4OL98
And their 1984 Paso Doble OSP European Championships: http://www.youtube.com/watch?v=RaJtKHeis_g&feature=related
<><><><><><><><><><><><><><><><>
Eddie "Rochester" Anderson is perhaps best known as Jack Benny's butler on his radio and television shows.
Anderson did have a career in movies that was separate and apart from Benny's programs. He did his part in one of the films circa World War II that were sos prevelant during the early forties.
This clip is Anderson in a production number center around his zoot suit "with a belt in the back" from the 1942 movie "Star Spangled Rythm":
Dated and racist? Certainly but the song itself is cute.
Juanita Moore also appears in it as the lady on the left. Her link at
http://www.imdb.com/name/nm0601428/
includes an episode from "The Alfred Hitchcock Hour" (1962) that Moore appeared in:
"Where the Woodbine Twineth"
West Side Story (1961) remains one of Broadway's classics as well as a classic movie from Hollywood. Some of Maven's cherished memories from the musical are:
The Gym/Mambo number:
"I Feel Pretty" with Natalie Wood:
"Officer Krupke""
Plus "America" with Rita Moreno and George Chakiris:
This is an interesting swing clip from The Ghost Catchers (1944) with Olsen and Johnson, Ella Mae Marsh and Grant Kirby - who would go on to become Sky King - and his orchestra:
"The Wizard of Oz" (1939)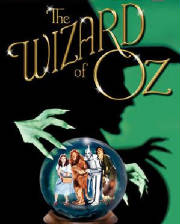 Click for Link
Maven now has a whole page for the 1939
The Wizard of Oz
at
The Wizard of Oz (1939)
! And in case you're wondering why it's in the history section . . . Maven has lots of links about how the movie was made that might bore any child under the age of 14!
OZ OZ OZ OZ OZ
Would you believe Gin, the dancing dog?!?!
Maven has come across a double-link to the Charlie Chan Series!
. . . . Rita Hayworth (billed as Rita Cansino) is doing a very sultry dance in the 1935 Dante's Inferno with Spencer Tracy. Unfortunately, Maven doesn't think it contains the entire dance because she remembers Cansino's very long hair coming undone. . . . Just think of all those bobby pins all over the dance floor!
That video is"Rita Cansino," made Dante's Inferno right after she made Charlie Chan in Egypt.
Plus the music sounds suspiciously like the music that Joan Woodbury (as Marie Collins) danced to in Charlie Chan on Broadway (1937).
*Just watch this clip of Rita Hayworth as Gilda in the 1946 movie of the same name . . . . You'll never think of long gloves in the same way again!
And for more about long gloves, check out
ETTA KIT
!
Plus some fan favorites she did:
And The Gang's All Here (1939):
Maven has, of course, a
GINGER ROGERS
page since Rogers got her start in Maven's own home town of Fort Worth! And don't let anybody try to confuse you because For Worth is where Ginger Rogers won the first round of a Charleston competition that lead her to winning the whole shindig - and a contract for a vaudeville contract - in Dallas!
The Mills Brothers, early in their careers, with dancers to boot!
And for Chan Fans, shades of Charlie Chan on Broadway!
Eleanor Powell in 1933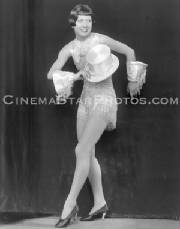 How about a very young Eleanor Powell (at only 17) AND Ginger Rogers in the musical Queen High from 1931! At least that's how they're listed on the video!
Eleanor Powell and Fred Astaire Dancing to "Begin the Beguinne"
Just for the heck of it . . . and if you need help to stay warm! . . . how about a little Donald Duck in Blame it on the Samba (1948). Is it the best Donald Duck cartoon that Maven can come up with? No, but it is cute and catchy, especially if you want a cartoon to go with Charlie Chan in Rio (1941) . . . !