Know Who's Who in This Cartoon and What Roles?!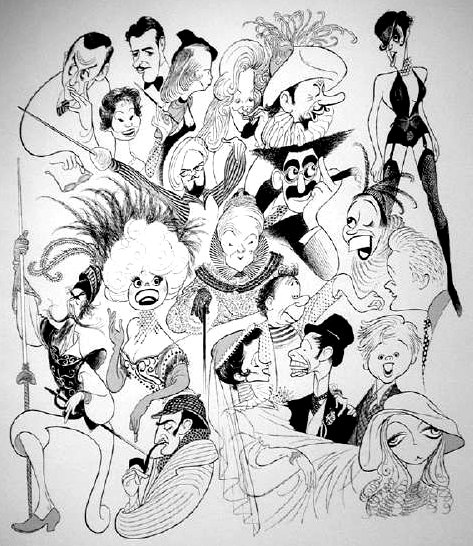 Please Let Maven Know at theoldmoviemaven@yahoo.com!
Maven can name some of these actors and the parts
that they are portraying but not all.
Here are some new treats that Maven has pulled together from some old files. . . .
Kay Linaker appeared in some five Charlie Chan movies (Monte Carlo, Reno, Treasure Island, Murder Cruise and Rio) but had a lot more going for her than considerable acting talent. She went on to co-write the screenplay to the 1958 version of The Blob and to become a teacher (of acting, of course!) at Keene State College in New Hampshire. She was kind enough to enlighten Maven on two subjects:
1. Harold Huber's so-fake French accent in City in Darkness.
2. The suspicion that there was more to Dr. Zodiac then most thought. The Zodiac character in Charlie Chan in Treasure Island (1939) was employed by two different actors as a plot devise. . . . To avoid being a spoiler alert, suffice it to say that it was logistically impossible for either actor to appear as Zodiac in certain scenes. Plus Maven recognized the voice that Zodiac used was a third actor, Gerald Mohr.
Ms. Linaker's reputation in Hollywood doesn't need Maven's help to embellish it but Maven salutes her memory as being as fine and gracious a person as she was an actress!
Elena Verdugo wasn't your run of the mill actress back in the day in Hollywood. Her family had owned considerable acerage way before motion pictures came along . . . . Heck, the Verdugos were landed gentry before still photography was born!
She was kind enough to shed light on the last Charlie Chan entry in the series proper, Sky Dragon. She was not only one of the players in the movie . . . she starred in a television series with Roland Winters, the Chan in the aforementioned movie.
Maven hopes Ms. Verdugo is writing either her autobiography or a history of Hollywood because she's another lady who seeems to have lots of stories to tell!
Elena Verdugo about Roland Winters
These are some autographes that Maven has collected and wants to share with others!
So how well do you know your actors in Hollywood? How many acting families can you remember? Can you remember all the members of each family?
Frankly, Maven couldn't.
Check out this quizz and then click for the answers at QUIZ ANSWERS!
DO YOU KNOW YOUR HOLLLYWOOD DYNASTIES?
ANNA MAY WONG
Okay, so Anna May Wong was never in a Charlie Chan movie but can Chan fans anywhere discuss Charlie's movies and/or Asians in films WITHOUT Wong's name coming up at some point?!
Frank Westmore makes Shirley MacLaine into a Japanese geisha, believe it or not, at
Shirley MacLaine as a Geisha according to Frank Westmore