What's not to love about Vincent Price?!?!
He had what Karloff and Lugosi had: not only the physical impact but a voice that could either scare the pants off of you or pull you into their fun and games! Not to mention his great good sense of humor in this sketch with none other than Kermit the Frog!
Bruce Swedien, Vincent Price and Michael Jackson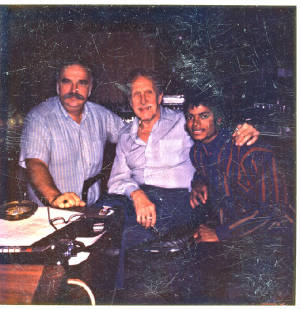 After Recording Price's Rapping for Jackson's Thriller
This is a great treat for Halloween that Maven came across that includes a second verse that she never heard. . . . It's Vincent Price's rap session for Michael Jackson's Thriller. Tremendously ghoulish fun from first rate artists!
And Jackson's full length video version of the song:
Maven came across an
interesting article that
involves Vincent Price
that you might want
to check out at
The 1959 version of The Bat mentioned in the following article can be viewed for free at
It also stars Agnes Moorehead and Darla Hood.
Vincent Price made two movies that had literary beginnings: The Bat (1959) and The House on Haunted Hill (1959).
The Bat traces its start in Mary Roberts Hinehart's The Circular Staircase (1908).
She and Avery Hopwood simplified Staircase into a Broadway play called The Bat in 1920, which became a silent film in 1926 as well as a book.
Not to mention that D.W. Griffith, the movie pioneer, wasn't above bootlegging the story in his own One Exciting Night (1922).
Roland West remade his silent version into the talkie The Bat Whispers in 1930.
The Grosset and Dunlap copy that Maven has of The Bat has stills from that version. So we come to 1959 when Wilbur Crane directed Vincent Price and Agnes Moorehead in a modernized version.
Good news was The Bat's look was more in keeping with the book.
The bad news?
We were left with fewer suspects, with Price being (deliciously) one of them.
Want more fun?
Check out The Invisible Man Returns.
Vincent Price begins The Invisible Man Returns as Geoffrey Radcliffe, who has been convicted and about to be put to death unless something is done by his friend, Doctor Frank Griffin (played by John Sutton).
Griffin just happens to be rlated to the original Invisivle Man, played by Claude Rains in the 1933 movie based on H.G. Wells' original book.
He arrages to visit Radcliffe before the execution . . . . The next thing the guards know . . . Radcliffe has disappeared, leaving his clothes in a heap on the floor. (Surprise, surprise, surprise!)
This is where Returns differs from the original with Rains. Doctor Griffin injected Radcliffe with a similar solution but used duocaine instead of monocaine from the 1933 story.
What's the difference?
All Maven knows for certain is we are treated to Vincent Price, as Radcliffe, going nuts and actually helping in finding out who was really at fault in the murder of his brother.
Want a teaser for Vincent Price's The Bat (1959)?!
You should also check out what Cortlandt Hull and Dennis Vincent have done with Vincent Price! . . .
You can click for a link to their website at
or on this site at
0-0-0-0-0-0X)X)X)X)X)X
-0-0
FACT OR FICTION?!
Vincent Price and Peter Lorre were
supposedly at Bela Lugosi's funeral. . . .
Lorre may have played too many
weirdos in Hollywood because he
allegedly leaned toward Price and asked,
"Do you think we should drive a stake
through his heart just in case?!"
OOOHHHH, what he said!!!!
0-0-0-0-0-0-0-0-0-0