December 7, 1941, is a historical date that
too few people remember these days.
Maven would like to honor the veterans and civilians who contributed to the defense of our country on "the day which will live in infamy" and before and since . . . and their families. So please check it out and pass the links on to others who have also served--at home and abroad--and their families.
Charlie Lagostie, Editor
And here is a version of The Marine Hymn with a translation from the Navaho Code Talkers. Just click on the link.
Navajo Code Talkers: World War II Fact Sheet
This is part of a run-up to the Seventieth Anniversary of December 7, 1941. It's not just about the one day. It's about those we lost, the survivers, their families . . . not to mention our military since and their families.
Here are just some of our heroes from then and now to enjoy:
Television in the fifties had a lot of different types of shows. One of most popular was WHAT'S MY LINE? and they had such heroes from Audie Murphy to Chuck Yeager. It's nice to see them "in person"!
How much history about The Day that Shall Live in Imfamy do we really know?
We are adding an excerpt from Jackie Cooper's autobiogrphy, Please Don't Shoot My Dog, in memory of his recent death as well as his military duty in the Navy during World War II and then Reserve Officer . . . . Plus in honor of our more recent vets.--Charlie
Please Don't Shoot My Dog by Jackie Cooper (An Excerpt from His Autobiography)
DECEMBER 7, 1941: Then and the Years Since
DECEMBER 7, 1941: The Old Movie Maven Issue
Navajo Code Talkers: World War II Fact Sheet
German Saboterus Invade American 1942
FDR amd World War II Espionage
Maven has also added a first-hand experience from
a United States Army Air Corps' wife . . .
Here are reviews and such by Maven about
movies that dealt with the war:
Tora! Tora! Tora! represents Hollywood's take on
December 7th, the day that embroiled the
United States into World War II:
TORA! TORA! TORA! - One Reviewer's Opinion
The Man Who Came to Dinner was released in January of 1942,
less than two months after the Japanese attacked
Pearl Harbor and was a much-needed
remedy for the home front:
Even hair had it's part in the war effort:
Hair Style for Safety WWII:
Hollywood did its part too for our military to safely enjoy food, drink, entertainment and the company of nice girls - supervised of course!
The Original Stage Door Canteen
JACQUELINE COCHRAN
http://www.centennialofflight.gov/essay/Explorers_Record_Setters_and_Daredevils/cochran/EX25.htm
http://www.aiaa.org/content.cfm?pageid=465
Cochran, at the request of Army General Henry "Hap" Arnold, organized the Women's Flying Training Detachment (WFTD) to train civilian women pilots in anticipation of a shortage of military pilots during the war. The WFTD was merged with Nancy Love's Women's Auxiliary Ferry Squadron (WAFS) to form the Women Airforce Service Pilots (WASPS) with Cochran as director. From 1943 to 1944, 1,074 women trained and flew over 60 million miles, ferrying aircraft, towing targets, and performing other administrative flying duties. The WASPS were disbanded in 1944, but were given retroactive military status in 1977. Following the war, Cochran continued to establish speed records into the 1960's. She was the first woman to break the sound barrier, doing so in 1953 in an F-86 Sabre jet. She was a fourteen-time winner of the Harmon Trophy, awarded to the best female pilot of the year. Cochran flew the Beech Staggerwing and Lockheed F-104, examples of which are displayed, respectively, in the Golden Age of Flight and outside the Planetarium. Cochran authored two autobiographies - The Stars at Noon and, with Mary Ann Bucknam Brinley, Jackie Cochran.[1]
Jacquelind Cochran and the U.S. Air Force
Jacqueline Cochran and Newspapers
AVENGER AIR*
PILOTS, LAND ON THE HISTORIC SPOT WHERE THE WASP FLEW
VISIT AVENGER AIR, SWEETWATER AIRPORT!
Right across the runway from the National WASP WWII Museum is AVENGER AIR, a working FBO with a friendly airport manager named JOHN HOWARD. John is a great guy--with great WASP stories and a knack for fixing broken airplanes. Stop by for a visit--and ask him to show you the UC-78. Better yet, FLY IN and he'll be glad to show you around.
Avenger Air is right on the spot where AVENGER FIELD was during WWII. Although the runways have been upgraded, the wind still blows in the same direction -- and the view hasn't changed a bit.
*http://www.wingsacrossamerica.us/avenger/avengerair.htm
Effects of World War II
Maven did double duty on one review with two movies:
Above and Beyond (1952) starred Robert Taylor as Paul Tibbets,
who lead the mission towards victory in the
bombing of Hiroshima.
Since You Went Away (1944) was based on Since You Went Away:
Letters to a Soldier from His Wife by Margaret Buell Wilder.
Wilder also did the adaptation . . . but then
one has to take the producer David O.
Selznick into accout:
"One of David O. Selznick's staff members told the producer
about Margaret Buell WIlder's novel; he was
immediately taken with it. However,
Selznick really wanted to make an
epic-sized movie, so he had to do a complete
overhaul of the book to suit those ends. He was
particularly interested in the character of the older
daughter, Jane, knowing that it would make a
ABOVE AND BEYOND and SINCE YOU WENT AWAY
The Son of Frankenstein (1939) with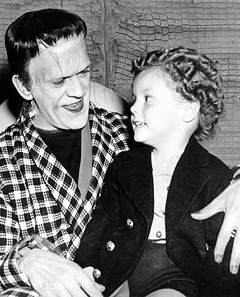 Boris Karloff as the Monster and Donnie Duagan as Peter von Frankenstein
NOTICE:
Maven was doing some checking and checked
www.imdb.com
for Donnie Dunagan, who played Basil Rathbone's son, Peter, in The Son of Frankenstein (1939).
It has a note about what he's doing now:
Where Are They Now
(March 2011) San Angelo, TX USA: Retired Maj, USMC, but Dunagan has kept up a hectic schedule by doing interviews on the ABC morning show "The View," in addition to the British Broadcasting Corp. in London, Disney Studios, NBC-TV in Chicago and CBS-TV in Houston, among others due to the recent Blu-Ray release of Bambi. (http://www.imdb.com).
And you can catch an interview with him at: http://www.youtube.com/watch?v=5d-yQhRlB-Y
Good going, guy!
Dame Vera Lynn, whose "We'll Meet Again" meant so much to so
many of her countrymen who fought in World War II,
is interviewed seventy years aftwards on GMTV: