Basil Rathbone, Boris Karloff and Bela Lugosi
In "Son of Frankenstein" (1939)
Son of Frankenstein (1939) not only had Boris Karloff and Bela Lugosi but Basil Rathbone (the aforementioned son of fame).
It also had one of Maven's favorite movie lines with Lugosi's Ygor talking about Karloff's Frankenstein Monster: "He . . . does . . . things for me."
You can catch Bela and Boris in some of Cortlandt Hull and Dennis Vincent's work over at The Witch's Dungeon at www.preservehollywood.org.
Boris Karloff - Click on the Picture for More on
Karloff and His Frankenstein Monster
Boris Karloff and Clin Clive in the Windmill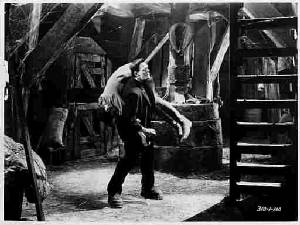 Click the Picture for More on Lugosi and other Vampires!
This has behind the scenes information on Boris Karloff's classic role of the Frankenstein Monster plus some other interesting links!
An Interesting Shot of Bela Lugosi
Going Battie!!
Want to know more about Bela Lugosi's Dracula, that he had his own radio series plus the Spanish Dracula and Lon Chaney, Sr.'s foray into vampirism?!?!
You can even find Karloff and Lugosi with either Charlie Chan or with Peter Lorre in "You'll Find Out," a 1940 musical entry--yes, Maven said musical!--with Kay Kyser and his Kollege of Musical Knowledge with Ginny Simms, Harry Babbitt, Sully Mason and Ish Kabibble.
Boris Karloff with His Daughter, Sarah Karloff
Click on Picture for an Interview with Her
Boris Karloff With Bela, Jr., with Genn Strange
Click on the picture for a clip of Bela Jr.
Children of the
Night . . . Also
Known as the
Children of
Karloff and Lugosi!!
<><><><><><><><><><><><>
For more information on Boris Karloff and Bela Lugosi . . . check out these links:
<><><><><><><><><><><><>
A Sketch of Boris Karloff as Gravelle in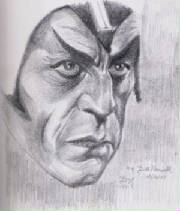 "Charlie Chan at the Opera" (1936)
I couldn't resist adding this sketch of Boris Karloff as Gravelle, Charlie Chan at the Opera (1936)!