This is a map to the Alvarado Court Apartments that figured in William Desmond Taylor's 1922 Murder. . . . For more, check out HISTORY: Hollywood's Scandals!
BISHOP MURDER CASE (1928)
By S.S. Van Dine
Philo Vance on the trail of a murderer with a Mother Goose fixation! MGM turned it into a movie in 1930 with Basil Rathbone as a barely interesting Vance, especially when you compare Rathbone's impact later as Sherlock Holmes over at Universal. Still almost as good a movie as
it is a book.
Plus the maps showing where the
detectives and the nearby playground
are in relation to the Dillard and
Drucker houses.
<<<<>>>><<<<>>>><<<<>>>>
You also might want to check out
ARCHITECTURE IN HOLLYWOOD: Scotty's Castle
. Many Charlie Chan fans consider it to be the insiration for the Castle in the Desert (942) and this page has floor plans and photographs!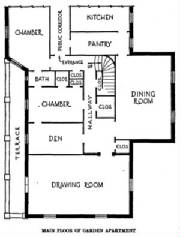 The Bishop Murder Case (1936)
by S.S. Van Dine
The Garden Murder Case (1936) is one of the Philo Vance movies made from S. S. Van Dine's books.
It stared Edmund Lowe as Vance and Virginia Bruce as his love interest, Zalia Graem . . . not to mention a plethera of character actors, from Grant Mitchell as District Attorney Markham (the perfect foil for Lowe's Vance) to Nat Pendleton as Sergeant Heath.
Maven has a warm spot for Pendleton's Heath and Etienne Giradot's Dr. Doremus. Watching these two together is among the best of the Philo Vance movie series. They are just a part of a great cast of character actors that you can find at http://www.imdb.com/title/tt0027656/fullcredits#cast.
Is it as good as other entries in the series?
The production values are superb and it's well-written but . . . William Powell will always be the epitome of Philo Vancedom as far as Maven is concerned but it's worth checking out if you get the chance!
Want to know where everybody was in the story, The Maltese Falcon by Dashiell Hammett?! You can either check the map at left or go get the inside dope written by Bad Girl Herself, Mary Astor, who starred as Brigid at MARY ASTOR. A great way to get ready before you delve into one of the best mysteries ever written!
<<<<>>>><<<<>>>><<<<>>>>