You've seen the slinky clothes or maybe the ones that made Bob Hope and Bing Crosby cute in their Road . . . films.
Now you can read more about the designers
who worked with the actors to help--or
in some cases--hurt their performances!
See Also:
Costume Designers Guild Awards:
Awards Archives:
Career Achievement Awards:
* * * * * * * * * * * * * * * * * *
********************************
The Infamous White Fox Fur Lady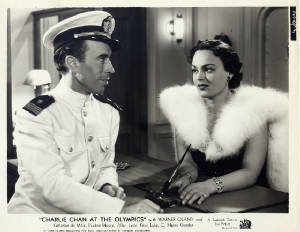 Katherine de Mille as Yvonne Roland with George Chandler as the Ship's Radio Operator
And here is an article from way back when that a fellow Charlie Chan fan wrote for Maven about furs in the movies . . . since we've had so much fun with the infamous "White Fox Fur" lady herself, Katherine de Mille, in Charlie Chan at the Olympics!
Fashion in Film: Furs - Part 1
Fashion in Film: Furs - Part 2
EDITH HEAD . . .
Literally and figuratively the costume designer at the head of the class when it comes to making clothes for the movies. Edith Head knew the directors and the stars and lived to tell about them!
Alfred Hitchcock and Edith Head
From the David O. Selznick Collection at the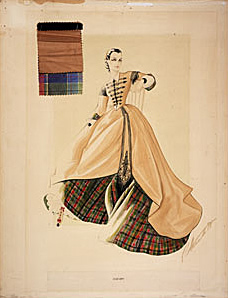 Harry Ransom Center at the University of Texas at Austin
The Harry Ransom Center at the University of Texas at Austin houses the David O. Selznick Collection. It includes lots of information about makeup and costumes up to and including Gone with the Wind (1939):
<O><O><O><O><O>