Ever wonder what Nancy Drew's hometown, River Heights, look like? Maven did! So now you can check out the River Heights directory and the map!
Plus some neat stuff about the movies about Nancy!
Want a review of the 2007 Nancy Drew movie?
NANCY DREW: The Mystery in Hollywood Hills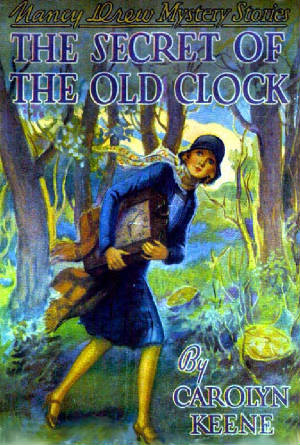 These are two recipes based on the Nancy Drew Girls' Series by Carolyn Keene (Harriet Adams). . . . Maven hopes you enjoy them with your parents!
This is from Nancy Drew Cookbook: Clues to Good Cooking(C) by Carolyn Keene; Grosset & Dunlap; 1973, 2005; page 113, as is "George's Peach Cobbler."
Maven's family cooks would probably "play" with the recipe to their own tastes like using strawberies instead of raspberries so . . . if you want to make your own changes, go for it!
Flag Cake Symbol
1 package white cake mix
1 box confectioners' sugar
2 tablespoons warm cream or milk
1 teaspoon vanilla flavoring
Pinch of salt
Cocoa
Blueberries
Raspberries
Bake the cake, following the instructions on the package, in a pan 9 x 13 x 2. Let cool. Make a white icing by combining the confectioners' sugar with the warm cream or milk, the vanilla flavoring, and the salt. Beat well. Then frost the cake. Decorate the top with a "flag picture." Use cocoa for the pole, blueberries for the stars, and raspberries for the red stripes.
*Come Clean!
If you use fresh berries, wash them by letting them soak in cold water for 5-10 minutes. Then put them in a strainer and gently run more cold water over them.