Don't you just love
this sketch of
Boris Karloff from
Charlie Chan at the
Opera (1936)?!?!
According to Walter Winchell:

Sex can't be important in films.

Remember, the world's leading film attractions remain Charlie Chan, Boris Karloff and Shirley Temple.
One of Karloff's grislier rolls is as The Ghoul, at least as far as Maven is concerned.
It's certainly one of his lesser known movies.
Check it out here.
Colonel March of Scotland Yard with Boris Karloff - This was an English series that they got lucky enough to get Karloff. . . . . Maven has only one episode but it's certainly different from Karloff's usual fare!:
The Son of Frankenstein (1939) with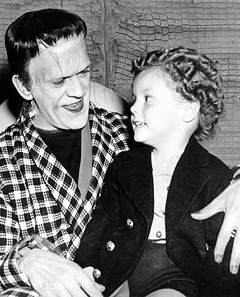 Boris Karloff as the Monster and Donnie Duagan as Peter von Frankenstein
NOTICE:
Maven was doing some checking and checked
www.imdb.com
for Donnie Dunagan, who played Basil Rathbone's son, Peter, in The Son of Frankenstein (1939).
It has a note about what he's doing now:
Where Are They Now
(March 2011) San Angelo, TX USA: Retired Maj, USMC, but Dunagan has kept up a hectic schedule by doing interviews on the ABC morning show "The View," in addition to the British Broadcasting Corp. in London, Disney Studios, NBC-TV in Chicago and CBS-TV in Houston, among others due to the recent Blu-Ray release of Bambi. (http://www.imdb.com).
And be sure to check CHARLIE CHAN: Behind That Curtain (1929) to check a still of Boris Karloff from that Chan Canon!
Maven has come across six goodies that Boris Karloff did for radio and . . . the best part is that they're avaiable for free, only needing to click on the links!
Maven posted on two other websites about what Warner Oland and Boris Karloff had in common and got a quick answer from Steve Fredrick (CHARLIE CHAN: Hawaii Steve and the Charlie Chan Tour) at www.charliechan.info. Unfortunately for Maven, he thought up a lot more answers than she had!:
(1) In the movies, they both became stereo-typed by playing popular fictional characters.
(2) They both wore make-up to create these famous characters.
(3) They both began their film careers during the silent era.
(4) They both became movie icons during the 1930s.
(5) They both worked with Bela Lugosi.
(8) They both made movies shot in Hawaii.
(9) Last but not least, they both played Fu Manchu in the movies.
And more Karloff/Oland similarities from Steve:
(1) Both actors were born in a foreign country, but achieved their great success in the USA.
(2) Both actors died in their respective home countries, i.e.: Karloff in England and Oland in Sweden.
(3) Both actors appeared in films with the beautiful Myrna Loy.
(4) Both actors appeared in films with the equally beautiful Valerie Hobson.