Seeing Elsa Lanchester in this still from The Bride of Frankenstein (1935) makes Universal's Jack Pierce and his confreres look downright ahead of their time!
><><><><>< ><><><><>< ><><><><><
Charles Gemora Brings Another Gorilla Suit in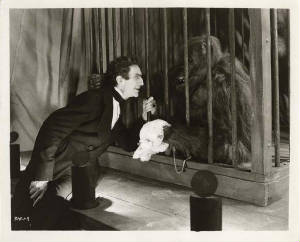 "The Phantom of the Rue Morgue" with Bela Lugosi (1932)
Maven can - and will! - argue that playing an animal in movies is at least a sub-division of make up artists. All those funky-looking gorillas in our beloved old movies were - Surprise! Surprise! Surprise! - played by men in . . . shall we say "hirsute drag"?! One such actor/stunt double was Charles Gemora (at left). You can find more about him and going ape at
http://gammillustrations.bizland.com/monsterkid1/id2.html
.
><><><><>< ><><><><>< ><><><><><
Michael F Blake's Top 10 Horror Makeups
><><><><>< ><><><><>< ><><><><><
Check out what Mary Astor had to say about makingup in the Hollywood of the 1920s!
Mary Astor on Makeup in the Silent Era
><><><><>< ><><><><>< ><><><><><
Harry Thomas Making up to Superman?!
This is an interview* with Harry Thomas who work on the George Reeves television episode of Superman and the Mole Men (1951) plus Michael Shayne in The Neanderthal Man.
One of the "Mole Men," Billy Curtis, was inthe scene in The Thing when James Arness got cut down to size!
><><><><>< ><><><><>< ><><><><><
This Picture is in the David O Selznick Collection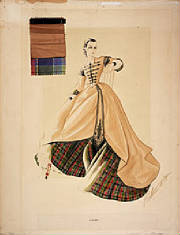 That Includes Make-Up and Costumes at the Harry Ransom Center at the University of Texas at Austin
The Harry Ransome Center at the University of Texas at Austin houses the David O. Selznick Collection. It includes lots of information about makeup and costumes up to and including Gone with the Wind (1939):
><><><><>< ><><><><>< ><><><><><
><><><><>< ><><><><>< ><><><><><
><><><><>< ><><><><>< ><><><><><
Here is a wee bit more about the makeup master who brought Lon Chaney to the level of Hollywood Legend along with Boris Karloff and Bela Lugosi:
Lon Chaney, Jr., and Jack Pierce
><><><><>< ><><><><>< ><><><><><
Jack Pierce and His Werewolf Makeup
><><><><>< ><><><><>< ><><><><><